Step into a world where magic and impeccable timing collide, giving rise to extraordinary moments frozen in time. Welcome to a captivating compilation of perfectly timed photos captured at Disney parks.
Join us as we journey through the iconic Disney Parks, where laughter, imagination, and serendipity intertwine to create breathtaking snapshots that transport us to a realm of enchantment.
Her Best Life
Disney World is often described as the happiest place on earth because of its thrilling attractions and exciting experiences.
The Minnie ears and kissy-face give us the impression this young lady is living her best life. It was a magical moment captured by the photographer.
Someone Help Mick
This made us laugh so hard we had to include it.
Probably unaware of what has transpired, the woman in this photo has let her sweatshirt turn into a major faux pas at Disney World. A win for unintentional humor.
Blissful Break
Visiting the parks will require you to walk multiple miles each day.
An average Walt Disney World guest walks 7-10 miles per day. This is great for some guests - they want to exercise while on vacation. However, for others, taking a much-needed break is blissful, as illustrated by the woman in this photo.
"Roody Poo, Candy Ass"
A special treat for his millions of fans, The Rock took the people's FastPass onto Splash Mountain at Disneyland.
Taking his bazooka-sized biceps to Disneyland, The Rock was captured by Disney's hidden camera hurtling down the side of Splash Mountain.
Animosity
His shirt did not impress Ariel at all. It's hard to blame her, their hatred runs deep.
Going to meet Ariel with a T-shirt featuring Ursula is not the best idea.
Oh Karen
You want to talk to the manager even before the ride is over.
During her ride on Splash Mountain, this woman had a pretty sour expression on her face. The husband decided not to join her on the ride, so she decided to use her in-ride photo to express her feelings.
Love Triangle
He watches in awe as Goofy walks off holding hands with his wife.
What are we looking at here? Could this be a love triangle? Could Minnie really be cheating with Goofy? Mickey seems to be shocked by this as well.
Disney Dare
Celebrities should be on high alert because paparazzi are everywhere.
Ariel Winter wore a plunging romper to Disneyland in Anaheim, California. Considering she works for Disney, it's a strange choice of clothing for a family-friendly park. For the Disney Junior cartoon series Sofia The First, aimed at preschoolers, she voices the title character.
Mickey Rebounded
Ariana Grande is a good rebound for Mickey. Sir, well played.
Minnie is currently frolicking somewhere with Goofy. It's time for Mickey to move on. It may be easier to move on from Minnie now that Ariana Grande is kissing you.
Chip Off The Old Block
Someone in the Chipmunks outfit seems to think that it means they can do whatever they want.
Although it might just be a coincidence, it looks like they are staring at that girl's chest, which isn't typical Disney behavior.
Two Basic Moods
At Walt Disney World, this dad and son show the two basic moods of a Disney vacation.
His father is probably ready to call it a day, while his son seems overjoyed on the attraction. This unique family photo will be cherished for a lifetime.
Blowing Off Steam
It looks like he was just letting off some steam.
The person who said Disney parks were only for kids was totally wrong. With the help of Genie's lamp, this dad let off some steam after dealing with his family all day.
Awaiting Her Prince
She stood by the path, gazing longingly into the distance.
Waiting for her prince to arrive and sweep her off her feet, bringing an end to her fairytale-like anticipation.
OHHHH NO!
Is there anything worse than throwing up on a roller coaster aside from dying?
It's just terrible for everyone involved. Hopefully the ride ended shortly thereafter so these poor people could get cleaned up.
Fanny Pack
Disney is the only place where fanny packs are accepted.
Fanny packs, or hip packs as the cool kids call them, have become the go-to bag at Disney Parks. Her fanny pack compliments the pink shirt perfectly, I won't lie.
Below The Belt
Getting to meet Mickey Mouse for the first time is an exciting experience for most children. She's not the one.
She did what any sensible little girl would do when Mickey came to greet and hug her. Kick Mickey where it hurts the most.
Prohibited
A mother and daughter were banned from Disneyland. Must I explain why?
Did they actually do this sober or was it a drunken dare? Regardless, they won't be seeing any more Disney characters in the near future.
Gropey
Pluto's costume protects the person inside from a more serious incident.
It is not helping that Pluto's natural face is one that is happy, so he seems to be enjoying what she is doing too much.
Lunch Break
Out-of-character behavior is strictly prohibited at Disney.

I'm going to go out on a limb and say this isn't Disney. I had no idea Disney had an "adults only" park? I think it would be a big success.
Incoming
An unexpected encounter with a seagull smashing your face.
People were having a great time when a seagull appeared out of nowhere. It didn't scare them much, as they are equally as thrilled by it as by the ride.
Violated
In a bikini-style shirt, this guest violated Disney's rules.
Visiting the Disney Parks may lead you to believe that the only rules are to keep your hands, arms, feet, and legs inside the ride. However, Disney Parks can be quite strict about how guests act, talk, and dress.
Deadmau5
And the worst thing you could wear to Disney is...
Minnie was moved tears by one theme park visitor's mistaken morning outfit! He wore a Deadmau5 T-shirt. Nobody wants dead mice at Disney!
OnlyFans
Taking a ride on the Walt Disney World skyliner, an adult content creator from OnlyFans exposes herself to the public.
A female has posted footage online of herself in Walt Disney World promoting her content on OnlyFans in what appears to be a publicity stunt. I don't think it's the right place.
The "D"
I wanted the D. I gave her the D.
Unidentified couple wears T-shirts with sexual message to Disney theme park, sparking furious debate.
Romance
With husband Doug Hutchison, Courtney Stodden bid her teens farewell with a trip to Disneyland in Anaheim, California.
She was mistaken for a Disney princess with her pink leopard-print Minnie Mouse ears, silver and pink tiaragolden, glowing skin, and supermodel physique.
Stoned
Prior to this particular encounter, Mickey self-medicated.
It just seems like he's a little more chill than usual. Very chill. It's not an accusation, though. We do not judge.
Tiger Gaze
What could Tigger have been protecting these children from?
Regardless of why he covered their faces, neither of them is likely to forget this picture and will have some interesting stories to tell about it.
Plus Size
Plus-sized model hits back at troll who slammed her for wearing an 'inappropriate' outfit to Disney World.
In her quote, she says, "So you're deeming that skirt 'inappropriate' because it's a skirt that actually had shorts underneath it. But because it's on a big body, you're offended?
Pumped Up
The actress gets pumped while riding a roller coaster at California Adventure at Disneyland.
She was joined at Disney by her older brothers Trevor, Ethan, and Brandon Moretz. The California Screamin roller coaster gave her a front row seat!
Squirrely
Despite the female squirrel's efforts to be courteous, the other squirrels are unable to resist their natural instincts.
They need to be reminded that cameras capture everything.
Smoke Break
In spite of the masks, it still shocks you when the actor appears.
It really shatters the illusion, doesn't it? This is why Disney's actors cannot remove their costumes while inside the parks.
Embarassing
The wife and I visited Disney World. The kids also came...
It was supposed to be a family vacation, but sometimes you can't resist your wife's hotness. You don't care who's around, not even your own kids.
Cover The Girls
When riding coasters, your choice of outfit is very important, especially if you're well-endowed.
In the back seat, we love to see you wearing a seat belt. Sends a very meaningful message to your viewers.
Twinning
Families with young children or anyone who enjoys a lighthearted and whimsical ride will enjoy Heimlich's Chew-Chew Train.
It is named after Heimlich from Pixar's "A Bug's Life" and features a train composed of caterpillar cars. There is no denying the resemblance between Christine Sydelko and the adorable caterpillar.
Role Reversal
Parents are ecstatic about being at a Disney park, while their son seems despondent!
Families are usually driven crazy by their children's requests to go to Disney. In this picture, the roles appear to be reversed.
Best Friends
A golden retriever got to meet one of his heroes.
A clear bond can be seen between Pluto and the service dog in the picture. It seems they've both finally found their best friend.
Miley Miley
As Miley Cyrus goes "braless" at Disneyland, the internet freaks out.
The trend of going braless has gained momentum in recent months, even among celebrities. As far as I'm concerned, it's fine. Dress however you want.
Cinderella Story
Is it true you can get married in Disney's Cinderella's castle?
Have you ever dreamed of Prince Charming and a beautiful royal wedding? Disney World is fulfilling another wish of yours. The cost of a completely customized ceremony and reception for 100 guests begins at $75,000.
In-Character
The beast taking in character actions a bit too far.
As the Beast represents the beauty inside, he is portraying it through his actions by covering the kids' faces with his paws.
Photo Ops
It is inevitable that some people will take photo ops to a whole new level.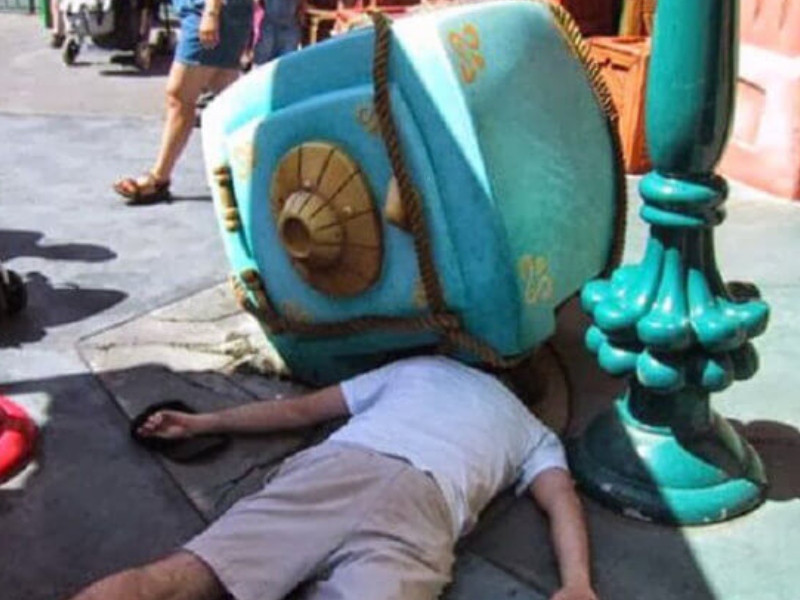 In this picture, the gentleman looks as if he had his head squashed by a cartoon safe. Don't worry, no guests were harmed during the photo shoot.
"Hiya, Toots!"
We learned a lot more about Donald after seeing him groping Christina Aguilera in public.
Does he really not care and has no shame? As you can see from his face, he seems quite proud of himself and his actions.
"Andy's Coming"
In the movie Toy Story, all the toys hit the deck and pretend to be dead.
The picture screams, "Andy's Coming! just like in the movie. It is definitely perfect meme material.
Gaston, Marry Me?
Compared to all the other proposals we have heard about in Disneyland, this one stands out.
This guy proposes to Gaston from Beauty and the Beast. There's no doubt Gaston will give him a good scolding. At least you tried, best of luck!
Bath Time
These people took advantage of the water and made it their bath time.
It is impressive how much effort they put into planning this photo. This is one of the many hilarious Splash Mountain pictures that have made history. I hope the guy shaving didn't get cut.
Sorry, Sorry
Nervously, the photobomber tries to avoid the camera.
A random guy interrupts your proposal after you spend months planning the perfect proposal.
Not Impressed
Aurora doesn't seem to impress this little princess at all.
As you can see, the little girl is certain that she is the real princess, while feeling a bit uncomfortable about Aurora taking all the attention.
Backstabbed
This girl got stabbed in the back as Minnie is trying to steal her man.
Once again, Minnie is at it. Her reputation is growing. Fortunately, the man isn't giving in but cringing instead.
Splash Proposal
The guy couldn't pass up the opportunity to take his girl to Disney.
In order to make it unforgettable, he jumped into a Splash Mountain-themed proposal. Look at how accomplished he is! There was no way she could say no after this, could she?
Donald's Family
Donald Duck, the little white duck with a sailor shirt and cap, is a beloved Disney character.
It appears that these ducks came to see how Donald Duck was doing. He really does not want them to leave.
TSwift's Bodyguard
Taylor Swift's bodyguard goes everywhere with her, even on Disney rides.
During the Radiator Springs Racers attraction, Swift's bodyguard stole the show. Swift shared a photo of the group riding the attraction in Cars Land. Swift's bodyguard was riding in the backseat with an earpiece in his ear and looked less than impressed.
Inside Job
I don't believe it, Mickey! Arrested in a Disney park? Do all of my heroes have clay feet?
A lot of little boys and girls would have been deeply concerned by this picture. Having to explain to their children why Snow White and Mickey Mouse were handcuffed and dragged away by the police would have been interesting for the parents.
Grim Faces
When people take photographs at Disney parks, they usually appear happy and excited.
This picture becomes strange since the entire family is standing outside Sleeping Beauty's tower but still looks so grim.
Clowning Around
It makes me wonder what's underneath the face paint and wig.
He appears to have gotten drunk, passed out on the rollercoaster, and woke up like this the next morning.
Overshadowed
An accidental photobomber in the background overshadowed his proposal.
As she was caught off guard in the background of the newly engaged couple's photo, the woman's hilarious facial expression was captured on camera.
Playing Jenga
Jenga can be stressful, but this is the ultimate.
What are these two guys doing in the picture? Blocks will fall regardless of whether they are removed or not.
Pug Life
Everyone can enjoy Disneyland, regardless of age, gender, ethnicity, or background. Yes, even animals.

Doug the Pug is a famous influencer. He's not your average dog. Fans flock to him in droves. Here he is posing with his tongue out in front of Cinderella's castle.
Art Form
It looks like these guys have mastered the art of posing.
These guys have perfected the art of the roller coaster photo, often going to great lengths in order to capture the perfect pose.
Dress-up Dad
To keep their children happy, parents do all kinds of things.
The best dads are the ones who do all the small things for their kids, but they also do them happily. There is a clear difference. Here's a picture of a wonderful dad who dresses up for his little princess even in public.
Vadar Ride
Even villains need a break from committing crimes.
While the shuttle on the Astro Orbiter doesn't do much but go round and round, it's still a lot of fun. Darth Vader even seems to be enjoying himself.
Underground Jails
There are underground jails for people who can't behave themselves.
Trash
Every Disney World employee is required to pick up trash whenever they see it. They cannot just stop, bend over, and pick up the rubbish - they must gracefully 'swoop' the rubbish up.
No Social Media
Disney employees are not permitted to discuss their roles on social media sites.
Cat Park
About 200 feral cats live on Disney property, and management is totally fine with them since they help with mice and rats.
"No Sad Kid"
In case a kid drops their ice cream, souvenir, or ruins their clothes, Disney will replace everything for free. There is a rule called, "No Sad Kid."
Two Finger Point
Park employees must point with two fingers or their whole hand. One finger pointing is considered disrespectful in some cultures.
VIP
The castle has rooms reserved exclusively for contest winners. This one is themed after Pirates of the Caribbean!
Abandoned Parks
Disney has two abandoned parks that sit unattended. Water park River Country closed years ago, while Discovery Island closed recently.
Golden Mark
Outside the famous castle is a strange golden circle. It's actually just a surveyor marker from when the park was being built, not the center.
Epcot Umbrella
When it rains, guests can stand under the Epcot Ball and not get wet thanks to its unique design.
Tomorrowland
Tomorrowland was designed to represent the world of 1986 when it opened in 1955.
Can You See Mickey?
Disney's Hollywood Studios developers did something fantastic. A giant Mickey face was hidden and only visible from above!
Original Rides
Fourteen rides from the 1955 Grand Opening are still in use today.
Tunnels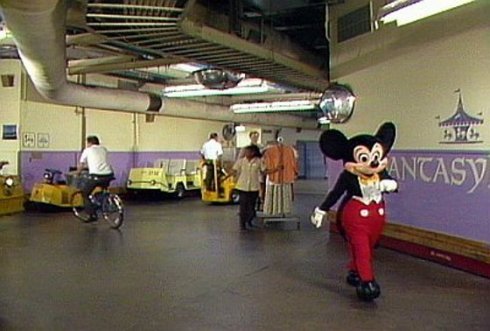 There are tons of tunnels under the Magic Kingdom so characters and medical personnel can get around quickly.